Come Home to
BETTER

Family Meals with our Tingkat Delivery by RichFood
Enjoy delicious and healthy Tingkat Delivery from us! We take care of the cooking so you can focus on spending quality time with your loved ones. Our Tingkats are made with fresh, high-quality ingredients and are cooked to perfection. Get your Tingkat today and experience the convenience and deliciousness of healthy home-cooked meals.
Our family of customers keeps growing. Here's why
A Rich Tradition Of HOME-COOKED Goodness: Healthy Tingkat Delivery at your Doorstep
We are family with RichFood Group, a trusted name for TCM-led confinement meal plans, celebratory feasts and events catering. We have been providing healthy Tingkat delivery in Singapore for years. Sharing RichFood Group's commitment to offer healthy meals to Singaporean families and individuals, we have gained the trust of many clients through the years. It is a track record, a shared DNA for excellence that empowers us to set the benchmark for authentic home-cooked flavours.
Mouth-Watering

Additions
Expanding Our Menus with More Family Favourites
Additions

Expanding Our Menu with More Family Favourites
The fact that every family has different favourite dishes serves as an endless source of inspiration for our chefs. The hundreds and thousands of recipes — each one powerfully evocative of the memory of home — are legacies of generations of mothers and grandmothers who cooked with heart. Just as they made time to prepare meals with care and creativity, we make the effort to constantly refresh our menus with as many beloved home-style dishes, which we Tingkat Delivery to your doorstep.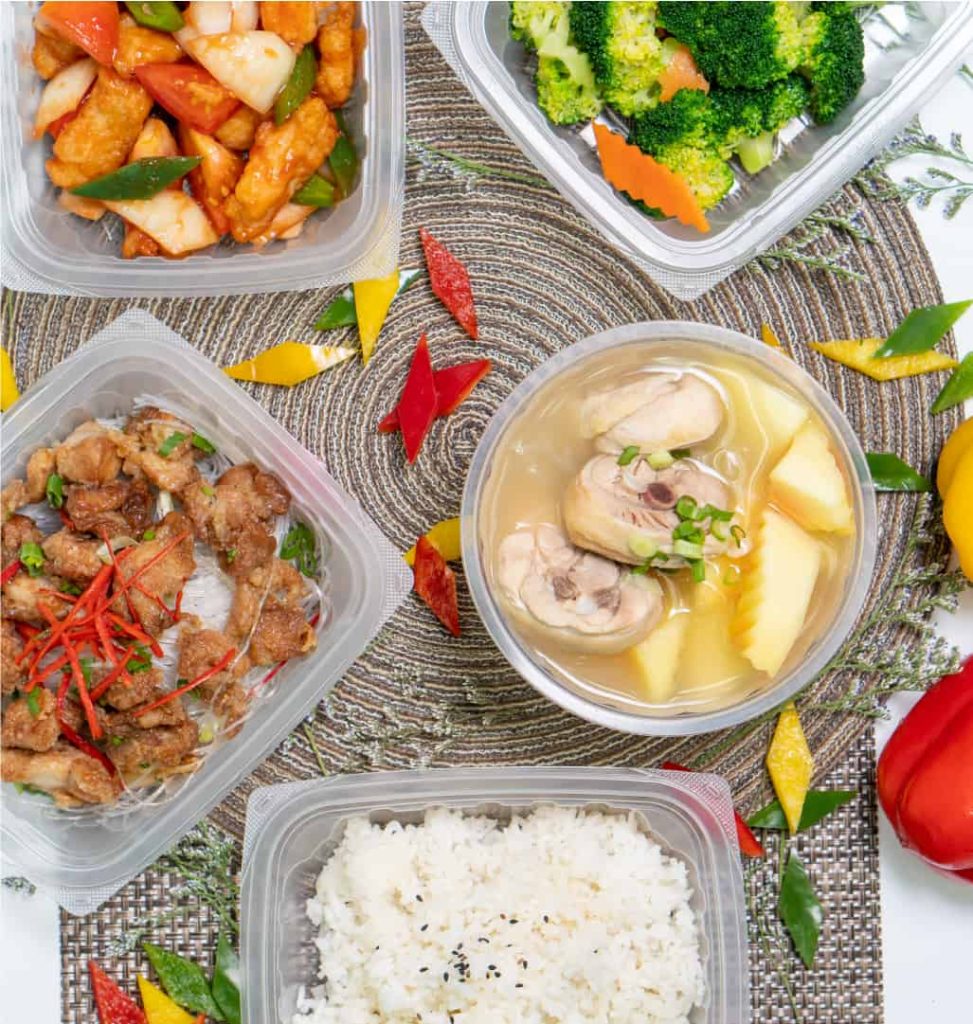 5 lunches
or dinners
for a family of 5
for just $8.10
per person
per meal

For Starters, Take a 5-Day
Cooking Break with Us
No grocery runs. No wet market jostling. No sweat in the kitchen. With our 5-day trial, you get variety in 3 or 4 different dishes every lunch or dinner, with a choice of brown, white or no rice, plus a nourishing soup to boot. All cooked and delivered with care. You'll wonder why you didn't start sooner with Tingkat Delivery. 
This is a good Tingkat
place with variety of
dishes, generous portion
and good soup!
Renewing for another 10
days. Please keep up!
Maple Lee
People Are Digging Our Meals!
#TingkatDeliveryByRichFood
Our customers eat better everyday
Here are some of the reasons we are getting 4.4 out of 5 stars!
Impressive varieties of dishes sent to the door step by friendly delivery person. Food is tasty ,and was less oily and salty compared to other food deliveries companies I engaged before. Highly recommended.
They are very generous with their servings portion and is a very delicious yet well balanced meal. My MIL tends to be picky with her food and she has been raving about it and how the food isn't too salty. Will definitely be ordering again 🙌🏻
Provide variety of delicious healthy food Definitely suitable for working parents
Recommend for working parents! It is so convenience for me to have a great meals at home. The meals was tasty and healthy since it is not too salty and oily. Variety of dishes available would suitable for each of my family members!
Love the fact that they offer a wide variety of dishes! 😀 Yay for choices
Love the service, will come again for the food.
Taste good, not too oily and the important is no MSG added to every dish, I am very scared of dishes that add MSG. That is why I keep looking for tingkat food without MSG, finally found tingkat delivery from RichFood. Thanks for provide a good meals.
Convenient to get delicious home-cooked meals after busy work a day, they deliver direct to my home at a good time, and customer service prompt replies.
I'd enjoy eating their tingkat home-cooked meals, very delicious dishes, that tantalize my taste buds. This is my second month ordering their meal packages. And I will recommend it to my friends too.