Come Home to
BETTER

Family Meals with our Tingkat Delivery
Less stressing in kitchen gives you the peace and calm to focus on what really matters at home. So leave the cooking to us, gather your loved ones at the table and share precious family moments over heart-warming soups and comfort-food dishes.
Our family of customers keeps growing. Here's why
A Rich Tradition Of HOME-COOKED Goodness: Healthy Tingkat Delivery at your Doorstep
We are family with RichFood Group, a trusted name for TCM-led confinement meal plans, celebratory feasts and events catering. We have been providing healthy Tingkat delivery in Singapore for years. Sharing RichFood Group's commitment to offer healthy meals to Singaporean families and individuals, we have gained the trust of many clients through the years. It is a track record, a shared DNA for excellence that empowers us to set the benchmark for authentic home-cooked flavours.
Mouth-Watering

Additions
Expanding Our Menus with More Family Favourites
Additions

Expanding Our Menu with More Family Favourites
The fact that every family has different favourite dishes serves as an endless source of inspiration for our chefs. The hundreds and thousands of recipes — every one powerfully evocative of the memory of home — are legacies of generations of mothers and grandmothers who cooked with heart. Just as they made time to prepare meals with care and creativity, we make the effort to constantly refresh our menus with as many beloved home-style dishes.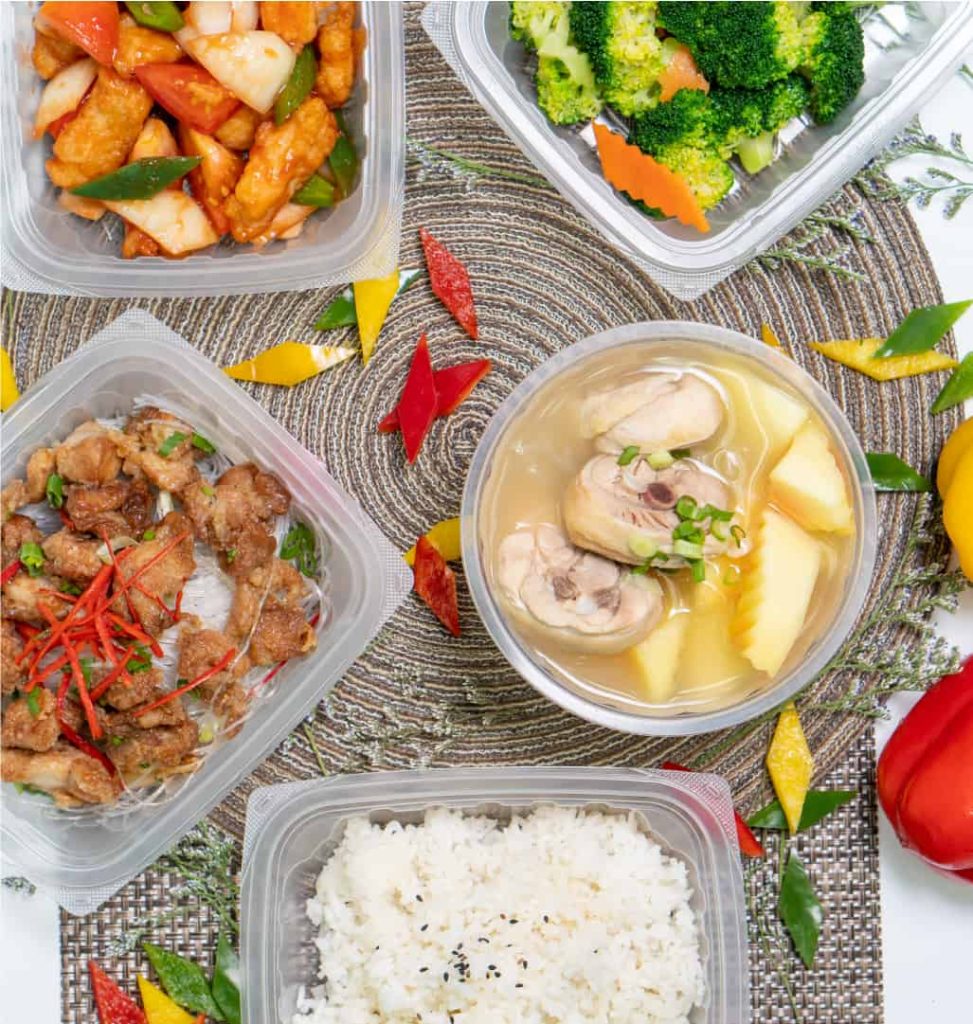 5 lunches
or dinners
for a family of 5
for just $7.47
per person
per meal

For Starters, Take a 5-Day
Cooking Break with Us
No grocery runs. No wet market jostling. No sweat in the kitchen. With our 5-day trial, you get variety in 3 or 4 different dishes every lunch or dinner, with a choice of brown, white or no rice, plus a nourishing soup to boot. All cooked and delivered with care. You'll wonder why you didn't start sooner with Tingkat Delivery. 
This is a good Tingkat
place with variety of
dishes, generous portion
and good soup!
Renewing for another 10
days. Please keep up!
Maple Lee
People Are Digging Our Meals!
#TingkatDeliveryByRichFood
Our customers eat better everyday
Here are some of the reasons we are getting 4.4 out of 5 stars!
Jacqueline Leong
2023-05-22
From the first day I started ordering through them, I have to chase the timing of delivery. Each time WhatsApp them, will take more than half hour to response and another half hour to get an exact reply. Food choices kept repeating and getting worst. After renewed three rounds, we are sick and tired of what they offer. We stopped ordering. Over promise and understand deliver. Disappointed.
DAILY TINGKAT food is all packed in plastic containers unlike the confinement food which comes in the tingkat tin containers. Really misleading and unhealthy for food to be in these uncertified containers.
The Tingkat weekly menus are not observed and the food quality is just not there. Paid for a 20 day package and we're already ordering from elsewhere. Won't be renewing our meal package for sure.
Love the food! Portion is good. Most importantly super tasty Elderly and children love it very much
Amazing place. This restaurant is the most authentic Malaysian restaurant I've been . Service excellent too Reasonable price and buffet. It is BYO bring your own!! Have a try
Amazing place. This restaurant is the most authentic Malaysian restaurant I've been . Service excellent too Reasonable price and buffet. It is BYO bring your own!! Have a try
Worst tingkat ever! The chef doesn't even know the food when we asked what's that dish which tasted weird. Sales staff so unprofessional via whatsapp reply. Soup was horrible, almost same taste daily.. will not recommend to others at all!!
This is my first time ordering tingkat service and the experience has been very disappointing. We ordered a 10 day tingkat trial and currently on our 3rd day. 1. RichFood has not been serving the food based on the weekly menu provided. 2.We have been served cabbage for 2 out of 3 meals and noted that the cabbage was not in any of the menu provided. Upon reaching out to the customer service, the response was that the company has the discretion to make changes to the menu. 3. On the 3rd day, 2 dishes were served wrongly and not according to the menu. 4. Do not order the soup, it's simply water plus insignificant amount of ingredients. My verdict: you are better off ordering from the CaiFan stall at the coffeeshop.
The food almost same everyday.
Home-cooked Goodness👍🏻 Serve fresh, healthy, fuss-free and delicious dishes 😋 We have tried: Chicken Cube w/ Ginger & Onion Grilled Pork Cube in Char Siew Sauce Stir-Fried Long Bean Bak Kut Teh Soup Overall, make our tastebuds Happy 😃